DAY ZERO, 6th January 2010
Our excitement knew no bounds as the 8th Pune International Film Festival was about to kick start! A week long event, it would be showcasing quality films from all around the world, ten screens at a time, across four major theaters in the city. But the annoying thing was that with less than twenty four hours to go, no schedule was available! Finally first two days schedule was made available after a really long wait and as soon as we got it we pencilled out our choices....We take you through the little fraction of the movies we could catch up with.....Enjoy!
DAY ONE, 7
th
January 2010
It was a chaotic start to the 8
th
PIFF at E-Square as hundreds of people gathered in the rather small lobby outside the screen 5 and with no volunteers present to control the rush, pushing and pulling and shouting was a common sight amongst the intellectuals present at the august occasion. My fellow reviewer has in fact managed a cut on his right arm due to some aggressive pushing he faced while entering the theatre. Well that goes to the event managers, who were not very effective at the start of the festival, but the film which opened the event, was fantastically effective.
Darbareye Elly
, eng.
About Elly
is an Iranian film directed by
Asghar Farhadi
and is considered by many sections as the
best Iranian film ever
. Three families, including a newlywed couple, along with a just divorced man, Ahmad have set out on a weekend outing. Sepideh is Amir's wife and she has invited along with her a 20 something girl who is her child's teacher. This is Elly. The motive of bringing her is to introduce her to Ahmad, the divorced single. The movie fades in and flows very naturally. The acting of every member, the dialogues, the screenplay and cinematography are so accurate that you never feel you are watching a film. It's one of the most easy going films one can ever witness.
As the movie goes forward a situation comes up where Elly goes missing. Based on what they knew about Elly in this while, the members of the three families deduce what might have happened to Elly. This is what forms the remaining parts of the film. Farhadi has fantastically developed the latter part of the script keeping in mind the fine nuances of human psychology in various situations occurring abruptly. The so many theories revolving around Elly's whereabouts make the viewer's suspense reach unimaginable heights and this obviously makes the climax very strong. The breaking of the climax and declaration of the end leaves you speechles and puts you into sheer thought for a long long time even after it ends…
DAY TWO, 8
th
January 2010
The second day into the PIFF was special for us surely. It was amazing to rub shoulders with great lovers of great cinema throughout the day and do nothing else but just watch and appreciate cinema. We split up our jobs to begin with; I went in for the recent German movie, Distanz, while my fellow reviewer chose G
ü
nesi G
ö
rd
ü
m (I Saw the Sun), a recent Turkish film.
This film is a great take by director Thomas Sieben as he showcases the fact that introverts can be dangerously cold criminals. Daniel Bauer (Ken Duken,
brilliant
) is a gardener at a botanical garden and likes to keep to himself. Here he meets a girl called Jana. Jana approaches him many times but he never goes ahead completely. Bauer develops a strange sense of dissatisfaction and insecurity which drags him to strange scenarios. One night he just drops a heavy stone sitting atop a foot bridge which hits a car and as the car loses control, it kills the couple inside. The anonymity of the crime he commits and some events that he meets henceforth transform him into a cold serial killer. Jana discovers something strange in Bauer's behavior and tries to do her bit to cure this illness of his. The film captures the psychological illness of a serial killer very well and also shows how unpredictable and unreliable they can be even to apparently close people and completely unknown people.
G
Ü
NESI G
ÖRDÜM (2009) ( I SAW THE SUN)
The first film to be shown in the World Competition of the PIFF is the Turkish language
Günesi Gördüm
. The story starts in the mountains conflict torn south eastern Turkey where three last remaining families struggle against the war for their survival. They too are forced to migrate to Istanbul where a family parts way to Norway. Through a series of misfortunes which get grotesque as they go, they realise they had lost a part of themselves when they left their village. The film ends with a family returning to their land and another making peace with their migration. A simple story is told against the backdrop of war. It does not take sides but presses that only the poor are made to fight and only the poor dies, he will not win. The movie packs in too many clichés from the Oscar book -homosexuality, feminism, etc. It does take out the focus from the main problem, the war here. The screenplay relies on some rather sad (read: sick) turn of events. But it delivers. Writer & director
Mahsun Kirmizigül
gathers my sympathy towards the victims. It's a problem that is grave enough to do that; he needn't have tried too much.
After watching one film each separately we decided to come back together for the next two. Our first film belonged to the special category called the "French New Wave" and was a crazy story called
Crazy Pete
and we followed it up with another recent German film called
Sturm.
PIERROT LE FOU(1965) (CRAZY PETE)
This is a movie which we certainly struggled with and in fact most of the people in the theatre did. And that is surely the achievement of the director. It is meant to be a crazy and eccentric tale of Ferdinand (Jean Paul Belmondo) and Marianne (Anna Karina) travelling here and there on a journey to nowhere! Now the audience reaction at the theatre we saw was embarrassing. In front of honorable French guests who had arrived to watch the show, a couple of dozen people left the theatre in reaction to the craziness going on in the film!
Coming to the story, Ferdinand is married to a rich Italian woman and recently lost his television broadcast job. He is forced to a party by his wife where he would be introduced to a potential employer. In the turn of events he returns home where he meets Marianne Renoir who had come to babysit his children. Five years ago, Marianne had an affair with Ferdinand (whom she insists on calling Pierrot). They get back for a night when Ferdinand realizes that Marianne is into smuggling weapons and discovers soon after that hit men are chasing her. That's when they run away leaving everything behind on their crazy journey. Jean- Luc Godard is a legend and this one is certainly a crazy classic.
STURM(2009) (STORM or THE TRIBUNAL)

Storm is a Taut political-legal thriller about an International Criminal Tribunal at The Hague where Goran Duric (Drazen Kühn) is on trial for atrocities against Bosnian Muslims during the Bosnian War ,probably modelled on the ongoing trial in The Hague of the former Bosnian Serb leader
Radovan Karadzic
. Hannah Maynard (Kerry Fox) plays the prosecutor having just handed over this flimsy case that's bound for acquittal when the lone witness, Alen Hajdarevic (Kresimir Mikic), turns out to be lying and then takes his own life. Will Duric go scot-free when we are made to understand he is guilty?

Hannah then deploys Hajdarecic's sister Mira Arendt (Anamaria Marinca) in this mission for justice. Mira's testimony would charge Duric with graver offences. Duric's political career is at stake. Because the new revelations will extend the trial and the tribunal cannot allow that, an accord has to be reached. Hannah and Mira are already lost before any testimony. Quite simply its a story about how the voices of innocents are lost in halls of court. International diplomacy counts more and rest of the world bothers little.
The gravity of the crime makes it an edge of the seat thriller.It's an important movie that gives a peek into The Hague, European bureaucracy. No matter how high you go, justice matters little.
DAY THREE, 9
th
January 2010
Animated Film Competition
If ever a thought of becoming an animation filmmaker crosses your mind, may I propose the Vancouver Film School or Filmakademie
Baden-Württemberg
at Ludwigsburg, Germany. These two are probably ace institutions for the art, or so I observed while watching the 25 animation short films competing in the student competition section at piff.
The screening was in the presence of Subhash Ghai whose Whistling Wood International was the organizer of the event. The fact that stood out was, it doesn't take 3d animation to make a good movie. The movie that stood out,
In The Name Of God
was created by primitive 2d techniques. In fact much of the better movies were lacking in sophistication of colour and line. Another inference was that Indian animation filmmakers have some miles to tread before they can compete, not in technique but in content.
Three minutes is a little too less to love a movie, but some managed very well. As a layman to animation what I could appreciate was a good story and good a score. Some movies that I liked and I could find on YouTube were:
Popped- Vancouver Film Academy
Friends?- Vancouver Film School.
Milla's Mushroom- Vancouver Film School
Fallen- Filmakademie
Baden-Württemberg
Inka Bola- Gobelins,Paris
Also check out the Indian entries,
Nanhi Chidiya- Jaspal Bhatti Film School (yep!)
And my least favourite of them all,
Education Bazaar- Zee Institute Of Creative Arts, Mumbai.

There are other animation shorts uploaded by Vancouver Film School on YouTube. They are very incredible. Also Pixar has uploaded quite a few of their shorts, do check them out please. Pretty Please with Sugar on top!
DAY FOUR, 10th January, 2010
Paprika Steen plays Thea Barfoed, an acclaimed actress of the stage. Thea lost sight of life in her alcoholism. Now back she would like to catch on with her ex husband and two sons that are her life. Can she prove herself as a mother or let her past latch on?
The movie is nothing extraordinary. Story is simple, told with little drama. If something deserves applause, it is the formidable performance by Paprika Steen. Her flair is contained in a rather obtuse screenplay. Director Martin Zandvliet indulges in close up sequences of Steen only proving the film is mounted on the performance of the lead actress. The movie does not leave an imprint on my mind though it's a performance on which all actors will be judged this piff.
DAY FIVE, 11
th
January, 2010
Surely one of the bests at the PIFF so far,
Jerichow
revolves around the life of a discharged army man, Thomas. He comes back to his home village of Jerichow after being discharged from Afghanistan. He is bankrupt and is seeking a job. In the turn of events he finds a job at a rich, local, Turkish-German businessman, Ali. This is where he meets Ali's young and attractive wife Laura. A fantastic love triangle is born and though a love triangle in cinema is such a cliché, Christian Petzold's treatment and intelligence makes
Jerichow
very unpredictable and gripping. The film beautifully expresses the human expressions of insecurity, trust, betrayal, guilt, passion, freedom and above all hope. With beautiful cinematography (an element of most German films we saw), and brilliant acting by the three main protagonists,
Jerichow
is certainly not worth a miss.
KYNODONTAS(2009) (DOG TOOTH)
This is a very matured piece of art by Giorgos Lanthimos. It is a beautiful mirror of the society we live in and it questions its dynamics right away.
Kynodontas
tracks the consequences of a family where the members have been bound within walls and are made to understand from their childhood that they cannot go out of that place until their canine tooth comes out (hence Dog Tooth). They live in a world where they think aeroplanes are toys in the sky which at times fall in their garden, zombies are little yellow flowers, sea is a rocking chair and to ask a favor you must lick. There is this so called father and has a wife with three children; two girls and a boy. Mr. Father has imposed an unbelievably horrific system on the household as previously mentioned and the film tracks the dynamics of how this system has made these members so much different from others outside and how does it develop
into something more and more monstrous with each day that passes. The visuals of this film are disturbing, but more disturbing are the social implications.
Kynodontas
silently speaks a lot about many kinds of abuses(Physical, sexual and social) humans in today's society face.
DAY SIX, 12th January,2010
This was supposed to be the first Indian movie that we were to document. And we didn't know what to expect. We were met with a surprise, Kerala Cafe turned out to be among the better movies that we saw at piff.
Kerala Cafe, the railway cafeteria, is a backdrop of 10 different stories by as many directors. Almost all of the stories were hard hitting, especially Shankar Ramakrishnan's Island Express which retells story of a train accident and Anwar Rasheed's Bridge which talks about separation. Laljose's Puramkazhchyakal(Passing Thoughts) which stars the stalwart of the Malayalam film industry,Mammootty is another such. Others like Shyamaprasad's Off Season and Anjali Menon's Happy Journey provide the lighter moments. Of the others, Shaji Kailas' Lalitham Hiranmayam which deals in loss is nicely acted out. B.Unnikrishnan's Aviramam is in the similar mould and the well known director Revathy's Makal is a sad document on human trafficking and a childhood lost.
On the downside there are two. The M .Padmakumar directed Nostalgia, fails to deliver. Mrityunjayam by Uday Ananthan finds no place in this anthology, not just because of its horror theme but also because it is not made very well. It is marred with blunt visuals that fail to frighten which for a horror movie is pretty much the end.
Kerala film industry, is supposed to be one of the best in
India
, and I am hardly acquainted with it but this movie, I am sure would do it proud.
KUKI NINGYO (2009) (AIR DOLL)
Kore-Eda Hirokazu (screenplay, direction, editing) is the biggest strength as well as the biggest weakness of the film. The strength certainly lies in the abstract story line which is sweet yet sad and
teaches us a few moving lessons. The weakness lies in the fact that he has overplayed this fable and made it repetitive, especially towards
the end.
A waiter who has broken up with his girlfriend is sexually starved and purchases a life size "air doll" and has sex with it every night. He calls it Nozomi, after his ex-girlfriend. One fine day, Nozomi finds a
heart and develops a soul. She is a fully grown female but her heart is like a new born. So she sets out exploring the world around her andsoon finds a job in a video rental store and strikes a
friendship(which eventually turns to love) with a worker in that store.
Through this fable, Hirokazu takes us through a sweet and sad journey where the girl discovers various aspects of human nature. And through
this one can draw parallels to human lust, human trafficking, sexual exploitation, prostitution, lifelessness of living people and so on.
Hirokazu makes these remarks stronger by introducing small, yet prominent characters into the screenplay. The problem, as I earlier mentioned, arises when he overplays it and the same conclusions are fed again and again.
With beautiful cinematography by Mark Lee Ping-bing and a lovely lead performance of the doll by Bae Doo-na,
Kuki Ningyo
leaves a strong impression on the audience.
DAY SEVEN, 13th January, 2010
LA RABIA(2009) (ANGER)

Argentina/Netherlands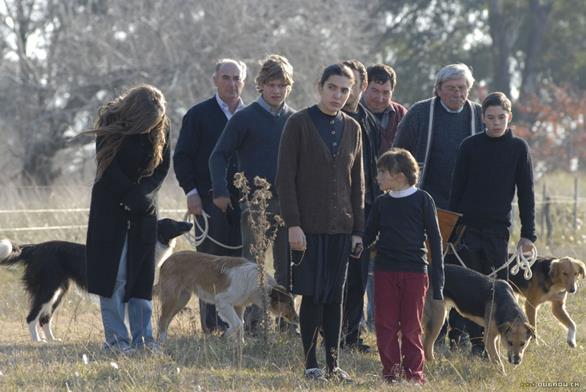 This film has disturbing visuals. A woman who while wearing a World Wildlife Fund t-shirt, cuts a cow mercilessly, along its central axis. And the whole process of roasting beef is shown in detail. Intention of the director behind this is to probably reflect the cruel atmosphere which is pretty normal in this silent village. The director shows us the film through the eyes of Nati, a small girl, who is mute. She sees the violent world around her, she sees her mother sexually involved with her neighbor and she sees her father and her neighbor treat everyone like animals.

Around this animalistic world around her, she often goes naked and starts screaming, which is a beautiful portrayal of how a mute girl holds up a mirror to the society around her. Her screaming symbolizes her disgust and her nakedness symbolizes the animalism of her surrounding society. Another form of holding up a mirror is Nati's sketches which probably are the strongest elements in the movie. The film later goes on to show how bitter matters get between the two
families and how unexpressive and hate filled are people who are gifted with speech and how a speechless girl is the only one who can express herself…
PALTADACHO MUNIS (2009) ( MAN BEYOND THE BRIDGE)
I had earlier seen the protagonist of this film, played by Chitaranjan Giri, in Anurag Kashyap's Gulaal where he plays a cop who digs his own grave by messing up with delicate issues of a radical liberating group. Here he plays Vinayak, a forest ranger, a widower, who patrols around the forest protecting it. The forest and the village are separated by a bridge. The bridge being the only link between the two and he is the man who lives beyond the bridge, in the
forest, in a small hut of his. As the title suggests, the bridge plays an important role in the narration.

Surrounded by loneliness and sunk in the memories of his departed wife, one night he finds a mad woman cowering behind his hut. Slowly, a complex relationship develops between the two.
The movie beautifully captures the dynamics of this relationship and its complexities, especially since she is mentally retarded and the story is based in rural India. The movie gets a lead when certain rural issues get included in the plot and how their relationship affects and gets affected by these issues.
No doubt this is a great film(placed in the World Competition), but talking of negatives, the performance of the mad woman (Veena Jomkar) was below average. Laxmikant Shetgaonkar, who was otherwise brilliant, probably wasn't clear about how retarded the woman was or how much normal and abnormal she was, the ratio was never clear…
Yet, this film is certainly worth a watch and one of the best Indianfilms to be screened in the festival.

FINAL DAY, 14th January 2010
JOHN RABE(2009)

It is hard not to think of Schindler's List while remembering John Rabe, a true account of the German businessman who saved lives of about 200,000 Chinese during the Rape of Nanking. The filmmaker seems himself quite obsessed with it. He even brings on a Ralph Fiennes look alike to play a similar part. And in the end we are left with a lot of images that are reminiscent of it.
John Rabe played well by Ulrich Tukur, is a director of Siemens China, a Nazi who gets reluctantly involved in a plan to develop a safety zone for civilians at Nanking, in light of Japanese aggression into
China
. Following it is a handful of people's effort to ensure safety of the civilians.
The movie is acted out with most sincerity, and sheer gravity of this heinous Japanese operation on
Nanking
grabs you. It is the screenplay that over emphasises on drama, an unnecessary romantic track for instance that harasses the sensitivity that this story demands. It is understandable then, that the movie might be in disagreement with John Rabe's diaries, the document on which it is made on.
In the end it is an important movie, you wish the makers had a greater perspective to carry it off. And if you haven't already seen it,
Hotel Rwanda
is another remarkable movie on a similar theme.